Nutanix Prism Central 2020.8 is available for download
Today Nutanix released new version of its flagship software Nutanix Prism Central 2020.8. Prism Central is a central management and control plane. It is a single management console to manage your fleet if Nutanix clusters. Granular RBAC, microsegmentation (Nutanix Flow), capacity planning (PRISM PRO), automation (CALM), day2 operation automation with X-Play. Those are few out of many more functionalities provided by PrismCentral.
What new in Prism Central 2020.8
New licensing tiers

Prism Starter
Default free Prism Central license, which enables you to register and manage multiple Prism Element clusters, upgrade Prism Central with 1-click through Life Cycle Manager (LCM), and monitor and troubleshoot managed clusters. You do not have to explicitly apply the Prism Starter license tier, which also never expires.
Prism Pro
Includes all Prism Starter features plus customizable dashboards, capacity, planning, and analysis tools, advanced search capabilities, low-code/no-code automation, and reporting.
Prism Ultimate
Prism Ultimate adds application discovery and monitoring, budgeting/chargeback and cost metering for resources, and a SQL Server monitoring content pack. Every Prism Central deployment includes a 90 day trial version of this license tier.

X-Play enhancements

Conditional Execution Workflow
Playbook Import and Export
Wait Action and Time Trigger Enhancement –

VM Exclusion Policies Support
Prism Central includes a new Operations Policy dashboard from which you can apply an exclusion policy to VMs that you do not want evaluated for anomaly detection or inefficiency measurement.
SQL Server visibility
Prism Central includes a new Monitoring Integrations dashboard from which you can collect application metrics for existing SQL Server instances in selected clusters.
Layer 2 Traffic Isolation for Flow isolation Policy
For a full list of new features see section below with links to release notes.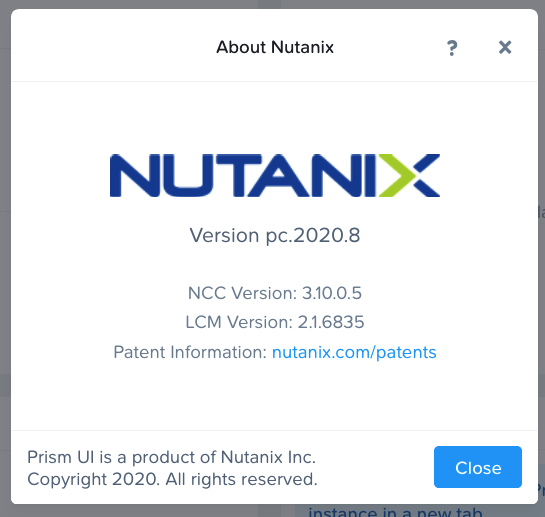 ---
Detail information can be found in the following Release Notes: