TOP 10 task to do after Nutanix cluster deployment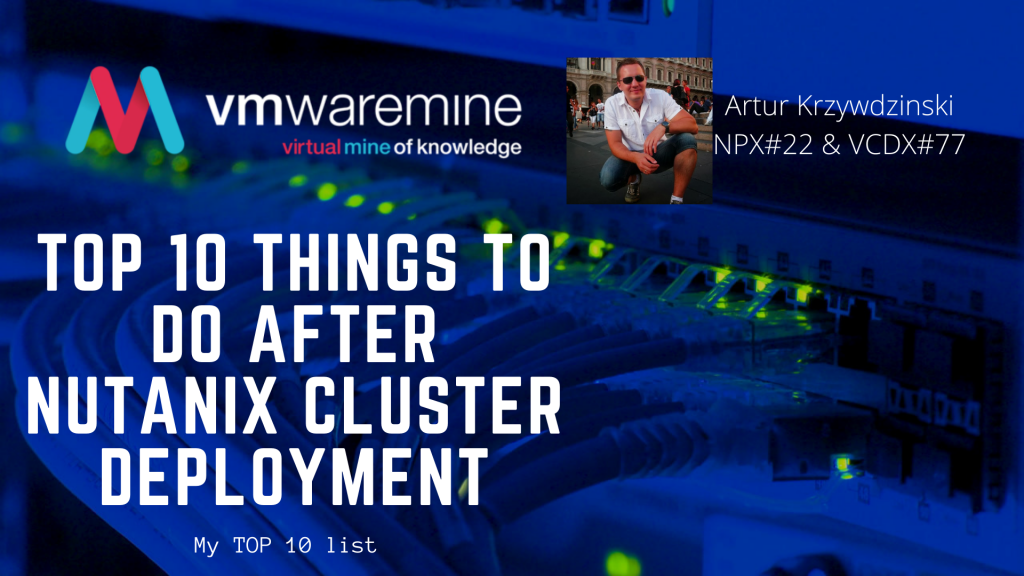 On the internet, you can find plenty of TOP 10 lists of what to do after deployment\installation for different products. I could not find any for Nutanix. So here it is – TOP 10 tasks to do after Nutanix cluster deployment.
TOP 10 tasks to do after Nutanix cluster deployment
#1 – Deploy Nutanix Prism Central
Nutanix Prism Central is a central management plane for your Nutanix estate. You can manage, monitor all your clusters from single console. In addition, in versions Pro you can do capacity planning and forecasting, use X-Play to automate IT operations
#2 – Enable PulsHD on PE and PC and alerting
Nutanix PulsHD is a very useful feature. It does provide up-to-date cluster health parameters to the Nutanix HQ. Based on the information provided to the service from the cluster, Nutanix support can automatically open Service Request on behalf of the customer, dispatch spare part (failed HDD or PSU or another server component). The feature is worth enabling and brings a lot of benefits.
#3 – Subscribe to Nutanix notification in portal
Register with your business email address in my.nutanix.com and subscribe to portal notifications. Subscribing to the notifications is a must for every Nutanix customer and administrator. You will stay up to date with Nutanix software releases, field advisories, and security advisories.
https://portal.nutanix.com/page/subscriptions

#4 – Run LCM inventory and upgrade all cluster components
Nutanix Life Cycle Manager is an excellent tool to help you orchestrate Nutanix clusters upgrade and keep track of changes. After cluster deployment. Perform LCM inventory and run updates if necessary.
#4 – Delete default storage container and create a new one
Default storage container name created by Foundation does not always meet customers naming requirements. You can log in to Nutanix PE and delete storage container with name starting default-containers-****
NOTE: DO NOT DELETE other default containers from the cluster. Those are needed for different components like CALM, Flow, store images, and few other things.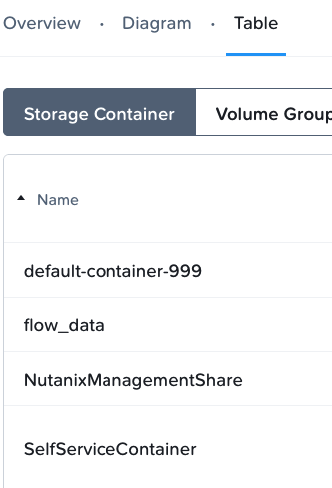 #5 – Change default passwords
I do not think I have to justify this point. Changing default passwords across the Nutanix platform is a must. If you are looking for the list of the default password for Nutanix products, check one of my post – Nutanix default passwords
Nutanix PC WebUI
Nutanix PC ssh account
Nutanix cluster Prism Element WebUI
Nutanix cluster Prism Element ssh account
Nutanix AHV ssh account
VMware ESXi ssh account
Out of band management (IPMI, iDRAC, iLO)
#6 – Register with vCenter server
When new cluster is deployed with VMware vSphere ESXi, registering Nutanix cluster to vCenter server is not mandatory. However, I do recommend you register cluster with vCenter to benefit from Nutanix LCM ESXi rolling upgrades.
#7.0 – Update vSphere cluster and ESXi nodes configuration
Default settings configured in the VMware vSphere HA cluster are not optimal for Nutanix. Excluding CVM and HA and DRS helps optimize cluster HA performance. Updating NTP/DNS and networking settings helps optimize Nutanix and application performance. I do strongly recommend reading the following documentations:
#7.1 – check out Nutanix AHV best practice guide
Both BP guides are mandatory positions to read for every Nutanix administrator and architect. Plenty of good stuff written by best of the best Architects at Nutanix.
#8 – Deploy and run Nutanix XRay
What is Nutanix X-Ray?
Long story short, Nutanix X-ray will help you check performance and resiliency on the cluster.
One one of my blog posts, you can find out what network ports are needed for Nutanix X-Ray
#9 – Run ncc
Nutanix cluster check is a tool that can check for you around 300 different parameters on your cluster and raise a flag if there is something not right. You can start it from the command line or from the Prism Element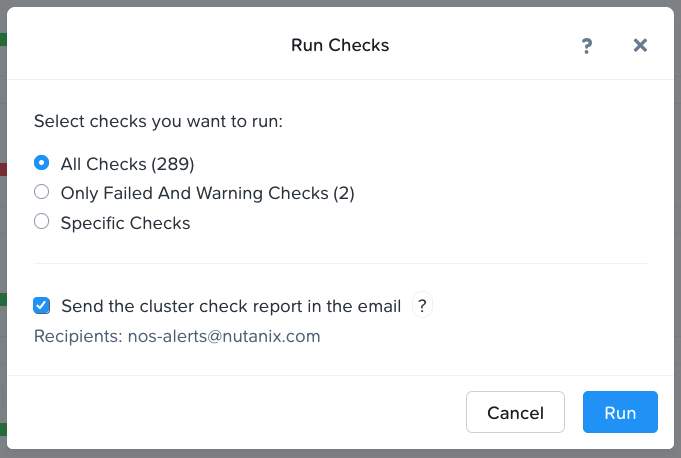 #10 – deploy Nutanix Move
Now, when your shiny cluster has been deployed, optimized, and tested, there is time to start migrating workloads for legacy infra onto Nutanix. There is no better tool than Nutanix Move. Can help you migrate from VMware, Hyper-V, Azure, AWS to the Nutanix platform.
if you are looking for more information on how to start migrating to Nutanix. Check my Ultimate Migration guide to Nutanix
That is my list of TOP 10 tasks to do after Nutanix cluster deployment. What do you think? Anything to add or remove, feel free to leave comment and send me email.