Nutanix Prism Central 5.5 – one click deployment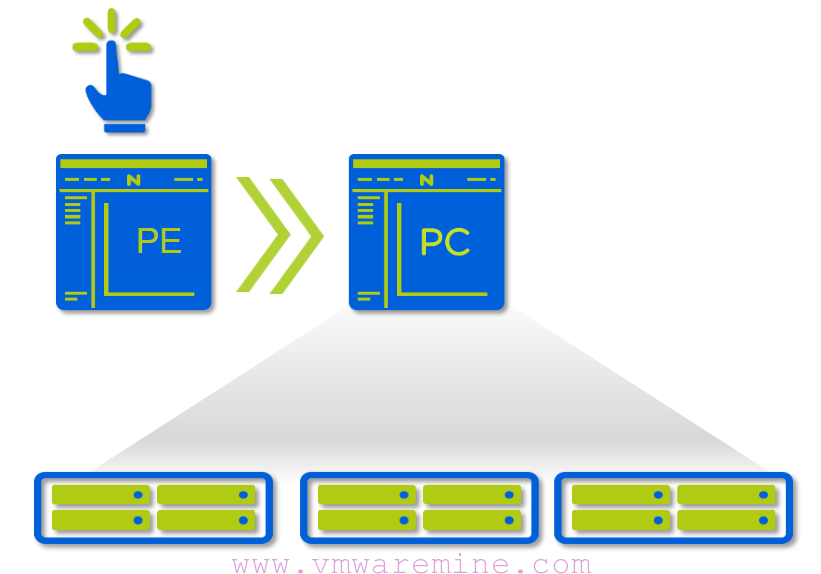 If you found my post from 2014 about deploying Prism Central you can see how manual process it was back in the day. Deployment itself as well as product went long way since then. From simple functionality Nutanix management plane into feature rich, full of new cool functionalities products which soon will be able to compete with best in class products out the on the market.
Prism Central in version 5.5 brought lot of new features and functionalities, such as:
Dynamic alerting
VM right sizing
Schedule reporting
One Click deployment
Catalog Service
Nutanix Calm
Nutanix Prism Central (as application running on guest VM) is supported on Nutanix AHV, VMware ESXi, Microsoft Hyper-V and Citrix XenServer. Deploying Nutanix Prism Central was never as easy as it is in Acropolis 5.5.X. In truly Nutanix fashion, in just few clicks, you can enjoy supreme features delivered by Nutanix Prism Central. Nutanix Prism Central 1-click deployment supports dark sites or clusters with no internet access (offline 1-click deployment bundle).
NOTE: Nutanix Prism Central 1-Click deployment (in AOS 5.5.0.X) is supported only on Nutanix AHV and VMware ESXi.
Requirements:
Nutanix  cluster with AOS 5.5.X
Step #1 – applicable only for dark sites or sites with no internet. Go to step #2 if you have internet access directly from the Nutanix cluster.
Download Nutanix Prism Central 1-Click bundle and metadata file from portal.nutanix.com.
Step #2 – Log in to Nutanix Cluster and from Home page click on Prism Central applet
Step #3 – Click on Deploy button
Step #4 – Choose Prism Central version you would like to deploy and hit download or upload Prism Central offline bundle and metadata file.
Step #5 – Choose deployment size. Note: you can start small and if you exceed number of object for small Prism Central instance you can easily bump up Prism Central VM vCPU and RAM to support larger Nutanix clusters. Provide VM name, IP addresses details, attach VM network.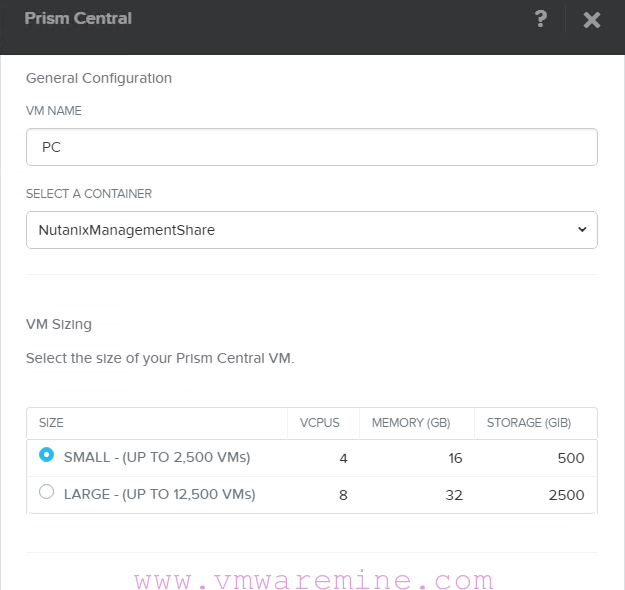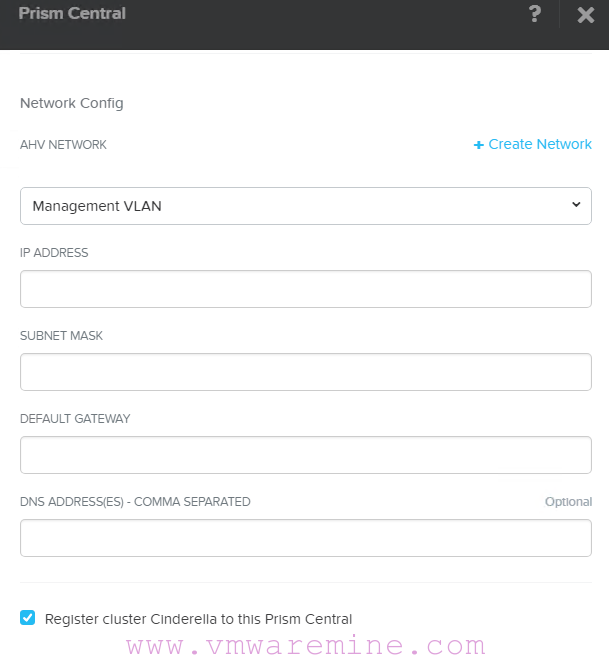 Watch below video to learn more on how to do deploy Nutanix Prism Central 5.5 using 1-Click deployment feature.