Nutanix X-Ray port diagram
Nutanix X-Ray port diagram
In case you need to ask security team to open ports ports for Nutanix X-ray, below port diagram can be handy.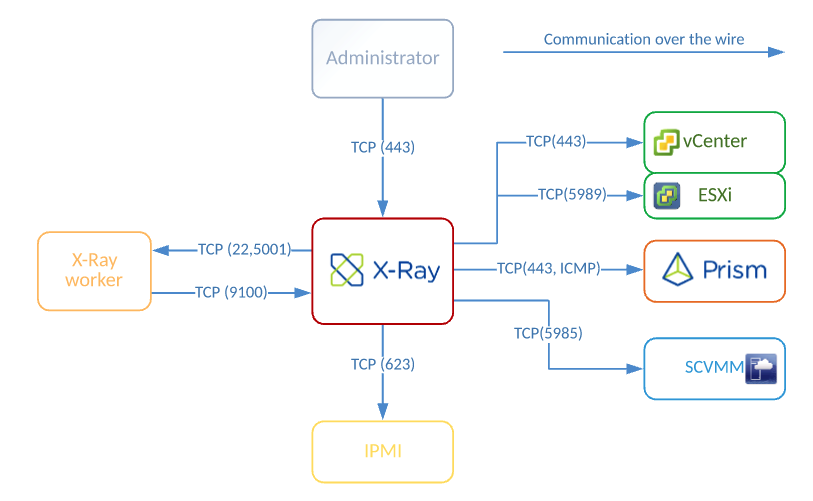 What is Nutanix X-Ray.
X-Ray is an automated testing framework and benchmarking application for enterprise-grade datacenters. The X-Ray application is a downloadable virtual machine (VM) with a user interface and complete documentation. Once installed, X-Ray can test and analyze several different systems and report comparable information for your use.
X-Ray provides test scenarios for hyperconverged platforms that demonstrate variations in areas such as performance, data integrity, and availability.
Port Description
| | |
| --- | --- |
| vCenter | 443 (HTTPS) |
| Prism/API | 9440 (HTTPS) |
| IPMI | 623 (IPMI out-of-band) |
| Deployed VMs | 22 (ssh); 5001 (agent) |
| Browser | 443 (HTTPS) |
| TCP for ESXi hosts | 5989 (HTTPS) |
| SCVMM (WSMAN) | 5985 (HTTPS) Note: On Windows Server 2016 and later, port 5985 is enabled by default. If you are using an older version of Windows Server, or if you have disabled remote PowerShell access, enable the port manually with the Enable-PSRemoting PowerShell cmdlet on your SCVMM server. |
| Information from the workload VMs | 9100 |
| Nutanix cluster | ICMP |
Port Description
---
Useful links
It is available for every Nutanix customer. You can download it from the Nutanix portal under Downloads –> Essential Tools