How to create recovery plans and protection policies in Nutanix Leap
In the first part of my Nutanix Leap series, I did describe the architecture and provide a high-level overview. Read it first, so you will have a better understanding of the terminology going through part two, of my series.
Nutanix Leap – requirements
Prism Central on both sites version 5.10 or newer
 Nutanix AHV only (as of AOS 5.10 release) Acropolis 5.10 or newer
Create test networks for DR tests on each site
Prism Central instances have to be connected to networks that are not a part of the recovery plan.
Create categories and assign them to VMs
Licensing:

Nutanix Pro + Nutanix Leap add-on
Nutanix Ultimate (Nutanix Leap included)
Nutanix Leap supported features in AOS 5.17
RPO >= 1h
RPO<=15 minutes
RPO=0 – synchronous replication
Replication targets: one to one
Async replication
test failover and test failback
reporting for both, tet failover and failback
Re-IP VM after failover
Enable Nutanix Leap
From Prism Central got to settings and check box in DR orchestration section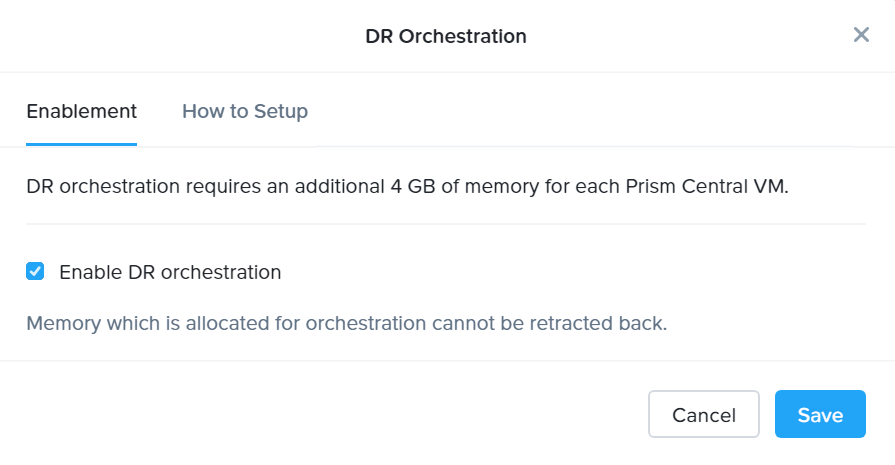 Set up Nutanix Leap
Connect to Availability Zone
Connect to another Nutanix Prism Central which clusters will act as recovery location, or connect to Nutanix Xi Leap.
Create protection policies in Nutanix Leap
Protection Policies in Nutanix Leap defines source and target availability zones and RPO for protected virtual machines.
RPO (as of AOS 5.17 – minimum RPO is 0)
Recovery location and target cluster (NOTE: you can specify  recovery cluster or let the system to choose a cluster, Automatic option)
replication schedules
retention policy

Linear – set up a system to keep the number of snapshots
Roll-up – this is a more advanced setting, where you can set up a snapshot retention policy

Choose whether to use App-Consistent snaps
Add VM categories into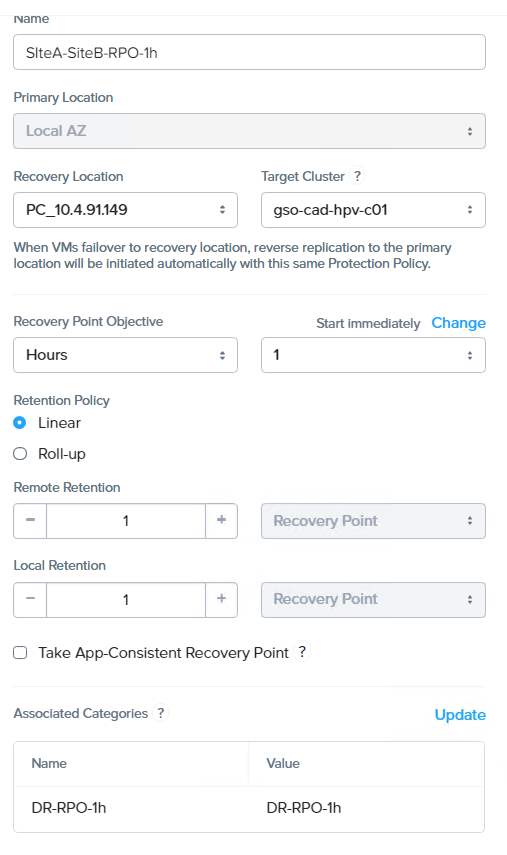 Protect VMs
Add categories to protection policies for the dynamic protection of VMs or protect VMs individually. Recovery points will be created for each VM. They can be viewed against each VM(on primary location) or recoverable entity (on recovery location)
Set up recovery plan
Create a recovery plan to define a sequence in which VMs should power on and define network settings.
Provide some meaningful name for a recovery plan
Add VMs and set up power on sequence.
NOTE: you can add single VM or VMs grouped by categories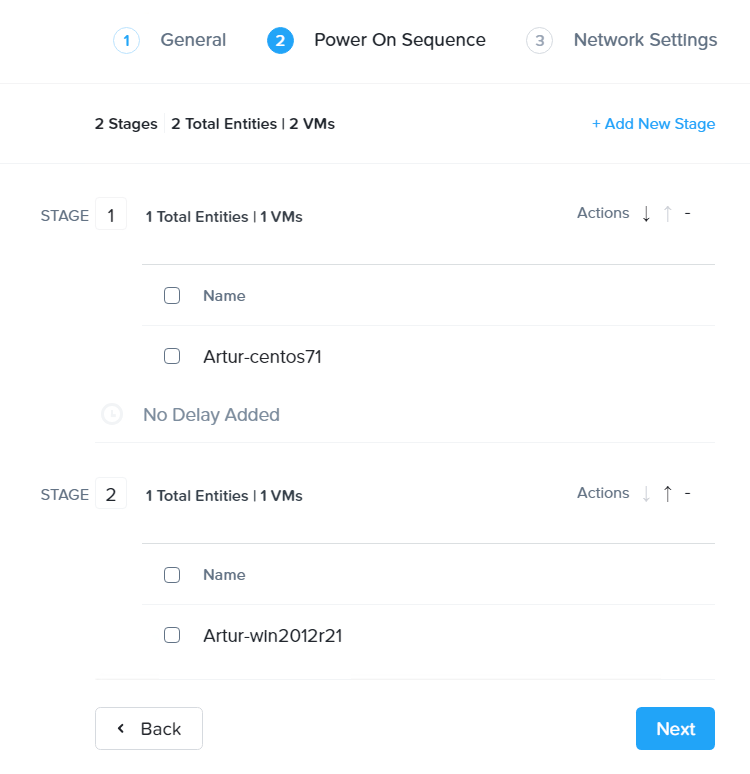 Set up network mapping for Production failover\failback and test failover\failback.
re-IP VM after failover or failback
If IP schema is different between datacenters, Nutanix Leap can help you re-IP virtual machines after failover. It is done automatically by the software. The only requirement is to have Nutanix Guest Tools (NGT) installed on a virtual machine.

NOTE: if you planning to leverage automatic Re-IP after failover, you MUST provide a subnet gateway IP address and subnet length
How does re-IP work?
Acropolis will preserve the last octet of the existing IP address and replace the first 3 octets with values provided in the recovery plan, network settings. Example below.
If the existing IP address is 192.168.10.200/24 and the target IP schema is 192.168.20.X/24. The new IP address, after failover, will be 192.168.20.200

Click on Recoverable Entities and you should see all VMs which are protected by the recovery plan

Create\update power on sequence
Power on sequence helps you prioritize virtual machine boot sequence. It is very helpful when you have to failover multi-tier application or infrastructure services before the rest of application. You can create up to 25 stages for single recovery plan. In each stage you can choose to assign specific VM or set of VMs based on categories.
Go to Recovery plans in Prism Central –> Update recovery plan –> Step 2 –> add new stage and add VM into it or from Action button add entity into existing stage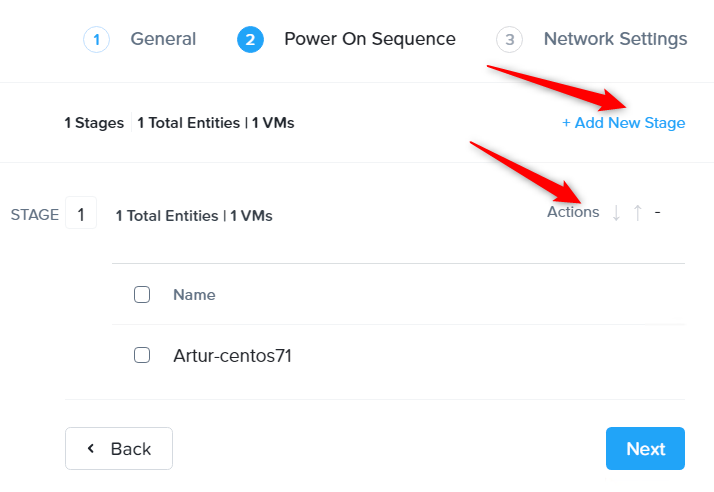 Short YouTube video on how to add VM into recovery plan.
To learn more about Nutanix Leap see Nutanix website