Welcome PHDvirtual as new sponsor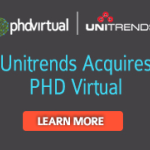 Warm welcome to vmwaremine.com new sponsor – PHD Virtual
About PHDVirtual
Unitrends provides the leading all-in-one data protection solution that offers backup, archiving, and disaster recovery for protecting physical, virtual, cloud environments, or any combination thereof. With Unitrends, organizations protect heterogeneous environments at the lowest TCO and backed by the strongest customer support organization in the industry.
PHD Virtual provides the absolute best value in data protection and certified recovery assurance for virtual and cloud environments. More than 6,500 customers worldwide rely on our solutions that reduce the risks and costs of recovery, are easier to use and far more affordable than competitive alternatives.
Transforming data protection and recovery assurance since 2006, PHD Virtual's innovative solutions feature our new Recovery Management Suite, the first affordable, breakthrough solution that automates labor-intensive manual recovery processes and constantly verifies that recovery can occur within acceptable SLAs. You gain unprecedented reliability and speed of recovery tasks across your entire continuum of data protection through the integration of our award-winning solutions.